---
PROJECT: Bristol 11kV phase 1
CLIENT: SSE Enterprise Rail
END CLIENT: Network Rail
END DATE: December 2019
SCOPE OF WORKS
The provision of design and checking for temporary works crane lift to facilitate the construction phase of an 11kV route diversion at Bristol East Junction.
DELIVERABLES
- Desktop investigation of supplied information from the collaborative model.
- Crane lift drawing with calculations
- F002 and F003 as per NR/L2/CIV/003

KEY ACHIEVEMENTS
By setting out from the collaborative model and the use of a conservative outrigger pad bedding we were able to carefully site the crane lift pads in an area that is heavily utilised by critical services.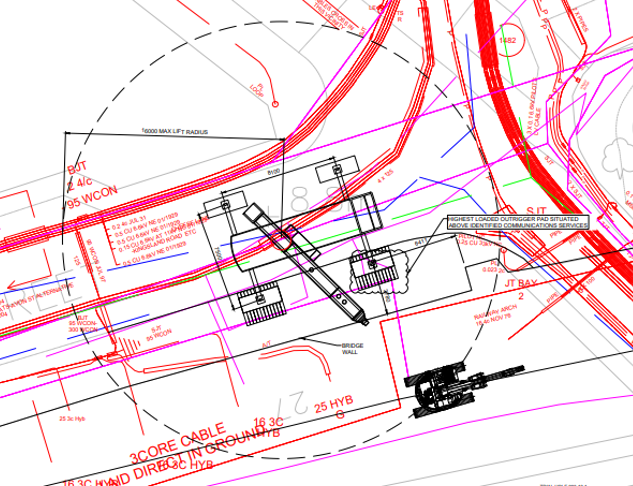 ---
PROJECT: RUNCORN VIADUCT
CLIENT: BUCKINGHAM GROUP
END CLIENT: NETWORK RAIL
END DATE: JAN 2016
SCOPE OF WORKS
The provision of design and checking for access scoffolding to enable the works at Runcorn Viaduct. The design included
- Design and Check of the scaffold foundations and tie bolts
- CAT II check of the suspended scaffolding and access scaffolding (designed by others)

DELIVERABLES
- Analysis carried out using a mixture of TEDDS software package and hand calculations
- 2D analysis of suspended scaffold frame
- Design using Eurcodes and TG20:13
- Drawings